Staylefish
Цитата:
Staylefish began in London, Ontario, Canada when old friends Dereyk Goodwin and Trevor Blumas approached Chad Kivisto and Will Dunlop to help assist them in a performance for their highschool talent show. With Trevors punk-ska style of writing, Chads Dave Matthews influenced folk guitar playing and hauntingly melodic voice, Wills slap and funk style bass, Dereyks pop-punk, hard hitting percussion, and a small repertoire of both covers and originals, they began to play shows locally at venues such as The Whippet Lounge and The Embassy Hotel.

With a little local popularity behind them, the band stepped into the studio to record theirfirst three-song demo, entitled Next Wave to Paradise. The demo featured the original versions of Next Wave to Paradise, Fallen and the crowd favourite Formerly Known As... The demo was a portrait for the sound Staylefish had at the times which was a more faster paced, hard driven ska sound.

With a demo behind them, the band started playing more shows around town, but at the same time gained new band member, and old friend Dan Tran on a blues, rock, and metal influenced lead guitar. As the band began to experiment with their sound, the outcome was a reggae based rhythm with distinct influences of folk, blues, rock, alternative, punk, world-beat, hip-hop, and fusion.

After a little more than a year together, Staylefish emerged onto the music scene with a completely original sound. With the addition of Richard Howard, providing his Caribbean vibe and intense stage presence, Staylefish became a hit in the University and College music scene. New songs such as Give It Up and the newly recorded verison of Next Wave To Paradise gained popularity and were featured on CHRW 94.9 FM. While continuing to build and expand their current fan base, Staylefish began to perform frequent live interviews on various local television and radio stations. Staylefish soon branched out of London, playing shows at clubs, colleges and universities across Ontario

With the assistance of musical genius Rich Gillespie on keyboards and the Production of Dan Santarella of Dansanman Studios, Staylefishs debut full length album Utopian Theory became a landmark album within the London Music Scene. Utopian Theory was released in the late fall of 2004 and has already sold well over 1500 copies across Canada and the United States. Utopian Theory was chosen by James Reaney of the London Free Press as one of the top 10 albums of 2004. Staylefish has also gained local recognition by the London Music Awards and The Jack Richardson Music Awards. The Fish are currently busy writing material for the follow up EP to Utopian Theory which can be expected sometime early 2006.
http://www.staylefish.com/index.html
http://www.myspace.com/staylefish
Staylefish - 2006 - Audible Addiction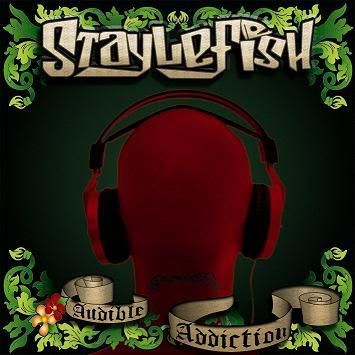 . The Spark
2. Rebel Rider
3. Green Black & Gold
4. Back in the Day
5. Bullet
6. No Ulterior Motives
7. AA
8. Interlude
9. Deja Vu
10. The Weekend
11. Southside
12. Sensimilla
13. The Archive
14. Not Too Late

http://sharebee.com/647a4e06


Enjoy!!!

PS: Click on thanks if you like it!!!
Keep The Funk Alive!!!