MY SPACE
Цитата:
About wisdom in chains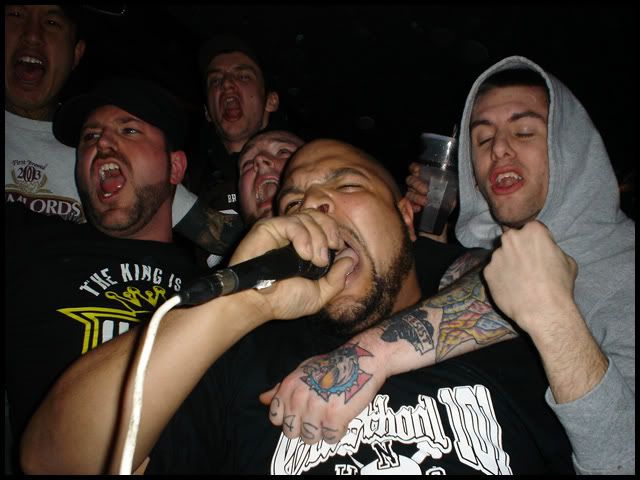 Wisdom In Chains was started a few years back with members from America and Europe. Maarten, a guitar player from Holland in a band called Daredevil made the call to Richie and Mad Joe who where in Krutch at the time. Maarten had the idea to start an old school band, with heavy punk and OI influences. The three met while Krutch was on tour in Europe. The plans where made and Maarten came to the USA to record. The group released a self entitled CD on Gangstyle Records. Only one show was ever performed by the group due to the extreme distance between the members. Eventually Maarten who was a key writer in the band would convince Richie and Joe to find local members and keep this band going. So they recruited local guitar star and just crazy motherfucker in general Tony Meltdown. Tony was in a band called The Ninth Plague and basically shreds on the guitar. Shannon Sparky was brought in on drums, he was a logical choice. Shannon also played with Richie and Mad Joe in another band called Out To Win (aka MUSHMOUTH). The search was on for the bass player, and the only guy that could jam with these cats was Big Show Greg, a local trouble maker and drunk. The new line-up was complete and now the band is hitting the highways and playing killer street rock with heavy old school HC and OI influence. The members of this band have played and toured with other bands like Krutch, FCK, The Ninth Plague, Boxcutter, Out To Win, Feeble and others, they are no new jack fuckos. They paid their dues and they do this music shit well. There is a full length CD out on Gangstyle Records, and now the fucking stellar release "DIE YOUNG" is out on Spook City Records. Take a listen and enjoy


Wisdom In Chains - Self Titled (2002)


DoWNLoaD (192kbit/s | 26.62 Mb)

Цитата:
Tracklist:
~~~~~~~~~~~~~
01 Never Again
02 The World Is Not Going To Miss You
03 Wasted Life
04 BFL Anthem
05 Nazi Head Stomp
06 Nobody Wins
07 Coward
08 Time 2 Play
09 Liar
10 Lost Feelings
11 Angelfuck
~~~~~~~~~~~~~


Wisdom in chains - Die young (2005)


DoWNLoaD (VBR:243kbit/s | 60.5Mb)

Цитата:
Tracklist:
~~~~~~~~~~~~~
1. We're Not Helping
2. Liar
3. Nowhere
4. One Of These Days
5. Fade
6. Dragging Me Down
7. Game Of War, The
8. Pass The Cup
9. Friday Night Drama
10. Die Young
11. Fighting In The Streets
12. Too Far Gone
13. Get To Steppin'
14. Out Of Season
15. Time To Play
16. Smash Your Face
17. Nothing Like You
~~~~~~~~~~~~~



от себя:
группа играет в духе сик оф ит олл, варзон.. олдскух хардкор.. местами ой.. вощем отлична банда на мой взгляд...