Мир круглый имеет форму чемодана.
2017 - Teho Teardo & Blixa Bargeld - Fall (SPECULA 009)
2014 - Teho Teardo & Blixa Bargeld - Spring (SPECULA 005)
Мир круглый имеет форму чемодана.
01.12.2017 ALBUM RELEASE
"MENETEKEL" BY HACKEDEPIOCCOTTO
Das Album erscheint am 01.12.2017 als CD und Doppel -LP mit Download Code und einem Extra Bonus.

hackedepiciotto sind Alexander Hacke und Danielle de Picciotto. "Menetekel" ist ihr neues Album und es ist dunkler als ihr letztes Meisterwerk "Perseverantia". Menetekel ist ein Wort für "die Schrift an der Wand" und das Künstlerpaar projiziert darin unsere kollektive Verzweiflung über das, was momentan weltweit geschieht und verwandelt es in eine monumentale Symphonie von Klang, der sich wirbelnd zu biblischer Raserei steigert. Die symbolischen und spirituellen Fragen die gestellt werden, geben dem Album eine ungewöhnliche Tiefe, eine ergreifende Sicht der menschlichen Suche nach Erlösung. Auf der D-Seite der Doppel-LP ist eine 20-minütige Klanginstallation, die während einer Residency in Österreich, zu der hackedepiciotto eingeladen wurden, in einer alten Kirche enstand.
Мир круглый имеет форму чемодана.
https://hackedepicciotto.bandcamp.com/album/menetekel
Мир круглый имеет форму чемодана.
Мир круглый имеет форму чемодана.
ALBUM RELEASE "JOY" BY HACKEDEPIOCCOTTO
The album will be available on CD and the release is on 08.05.2018.
Мир круглый имеет форму чемодана.

Both know each other for ages. They have a connection since the early days of 16 Horsepower and collaborated on the reunion album 'American Twilight' by Australian Indie Rock outfit Crime & The City Solution (2013). Finally they found the time to record this astonishing piece of an album: "David and I have been admirers of each others work for some time. We first got to play together for The Glasshouse, a movie project initiated by my wife Danielle de Picciotto and during the brief resurrection of Crime & the City Solution all three of us were involved with. Shortly after I worked on Wovenhand's Laughing Stalk album as a mixing engineer. We became close friends during these very diverse collaborations and started talking about creating music together, which would combine electronics with ethnical instruments and overdriven guitars with oriental rhythms and scales" Hacke says.

Over the last two decades, Edwards' prolific work in both bands, 16 Horsepower and Wovenhand has influenced and inspired a generation of musicians. His music has always had an unparalleled intensity. His rich, billowing and emotive voice is always the driving force of his music. "What I love about David is his approach to words and music, which to me seems to be all about tapping into a divine source of inspiration and to leave all profane concerns and conventions behind in order to create some true and truly great art."

Alexander Hacke, a musician from the start, is primarily known as a longtime member of German industrial music group Einstürzende Neubauten and one of Germany's most influential experimental artists. "Alexander Hacke has been a part of my life for so many years, long before I ever had the pleasure to meet him. I am a fan to say the least. He has been more than an inspiration to me. He is a true talent and I have the utmost respect and admiration for him as a person and a musician and all that he has been a part of. I have listened to religiously and learned so much from. When we finally did meet the image I had of him was only made greater, in person he is so kind and patient and generous, intelligent and such an all around bad ass" David says. Almost impossible to resist such an exotic and amazing pairing.

"Our way of working together turned out to be really intuitive. We didn't have to discuss a lot of conceptual strategies and rather allowed ourselves to be guided by the music, which happened to just materialize in vast chunks. All we had to do was to merrily put the pieces together and discover the tale they were telling." - Alexander Hacke

David Eugene Edwards recorded all vocals, guitars and string instruments; Alexander Hacke played keyboards, bass, drums and electronics. Together they created an astonishing and hypnotical soundscape and atmosphere on their first full length LP.

'Risha' cannot be described in traditional terms. This sound is a sweeping tapestry of Americana, Neo-Folk, Industrial, Ambient, Electronic and Arabic Music. 'Risha' - which means 'Feather' in Arabic - contains 10 parts: Beginning with the mystic 'Tryptich' which is followed by the furious beat of 'All in the Palm'. Hacke and Edwards keep the pace with 'The Tell' and its driving industrial rhythm and break it down completely with track #4, "standing stone, Helios". 'Kiowa 5' is shaped by fascinating drum patterns and the shamanic vocals of David Eugene Edwards. 'Lily' is the song that is inspired most by early Wovenhand, followed by the dark and hypnotic 'Parish Chief' with its almost Suicide-like vintage drumbeat, the drone excursion 'Akhal', before the memorable 'Teach Us To Pray' and the final and epic 'Breathtaker'. Each one a piece of the puzzle; made to be listened in its entirety.

"To make our own record together has always been a dream and now because of his kindness we have done so. I am so grateful and honored to play with him and so excited for the world to hear what we have created together." - David Eugene Edwards

David Eugene Edwards & Alexander Hacke 'Risha' will be released June 22nd via Glitterhouse Records followed by extensive touring.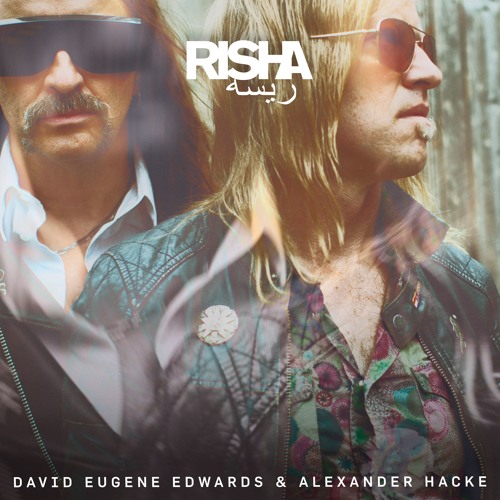 Cops in latex gloves trying to search my skull
2016 - hackedepicciotto (Danielle de Picciotto & Alexander Hacke) - UNITY
1. Danielle de Picciotto & Alexander Hacke - 108 (20:26)
2. Danielle de Picciotto & Alexander Hacke - The Four Fold Breath (20:06)
3. Danielle de Picciotto & Alexander Hacke - Wheels Of Light (20:05)
320
https://www79.zippyshare.com/v/FVN7mTaW/file.html
Мир круглый имеет форму чемодана.
Мир круглый имеет форму чемодана.
Can't wait...
2005 - Grundstück (Potomak, Neubauten-2)
1. Einstürzende Neubauten - Good Morning Everybody (4:45)
2. Einstürzende Neubauten - Grundstueck: GS 1 (5:02)
3. Einstürzende Neubauten - Grundstueck: GS 2 (2:23)
4. Einstürzende Neubauten - Grundstueck: Unseasonable Weather (3:06)
5. Einstürzende Neubauten - Grundstueck: GS 3 (1:49)
6. Einstürzende Neubauten - Grundstueck: Vox Populi (6:10)
7. Einstürzende Neubauten - Grundstueck: November / Sie laechelt (6:04)
8. Einstürzende Neubauten - Neun Arme / Die Nacht (3:54)
9. Einstürzende Neubauten - Wo sind meine Schuhe? (5:02)
10. Einstürzende Neubauten - Tagelang Weiss (6:26)
Мир круглый имеет форму чемодана.
Kiku Feat. Blixa Bargeld & Black Cracker - Marcher sur la tête (2015)
друзья, можно еще разок?
...bang on a can, herbie hancock, wollny/kruse/schaefer, joachim kuhn, kurt elling, agustí fernández/barry guy/ramón lópez, hyperactive kid, trespass trio, j.d. walter, frode gjerstad/jon rune strom/paal nilssen-love, the thing, gregory porter...
We are happy to announce that the first webcast of Phase IV will be held on Thursday, May 9th. Please visit the LIVE page from this site at the time of the webcast to watch it.

If you don't know what "Dave" cards are, or how they apply to EN's working methods, please fresh your memory by watching the helpful explanatory video here (from the Jewels album). A "Dave"-guided song building process will be happening on Thursday, with cards drawn in the first session and a song taking shape in the second.

The first session will be from 12:00 to 13:00 Berlin time.

The second session will be from 17:00 to 18:00 Berlin time.

If you are not sure how these times translate into your local time, please try the World Timezone Converter.

Special note: as the first webcast of Phase IV, these will be open to the public so that we can explain what we are doing. Also, anyone who signs up as a supporter during the live webcasts will be announced and welcomed personally by the band.
https://www.facebook.com/events/413261502788352/
Мир круглый имеет форму чемодана.