Перезалейте DJ_Olive--Triage и VA-Fabrique пожалуйста!!
in muzik with different beatz we all trust
John Chantler есть у кого?
Artist: Chihei Hatakeyama
Title: Mirror
Genre: Experimental
Release date: 2011
Audio codec: MP3
Format: tracks
Quality: 320 kbps
Tracklist:
01 – Ferrum
02 – May 15, 2010
03 – Spilth
04 – October 3, 2009
05 – Renitency
06 – July 4, 2008
07 – Alchemy
Download[filesonic]:
http://www.filesonic.com/file/1525061154/(.../(Experimental)
Chihei Hatakeyama – Mirror – 2011, MP3, 320 kbps [mikkisays.net].rar
Download[easy-share]:
http://www.easy-share.com/1916945483/(Experimental)
Chihei Hatakeyama – Mirror – 2011, MP3, 320 kbps [mikkisays.net].rar
Password:
mikkisays.net
Thanks 2the original uploader... Request: Steinbruchel-Narrow RM443-2011
Steinbrüchel-Narrow RM433-2011 (@320)
Ссылка:
https://rapidshare.com/files/3383794133/RM433.rar
новые работы Лоуренса Инглиша и Минамо есть у кого?
Цитата: (космонавт)
новые работы Лоуренса Инглиша и Минамо есть у кого?
Minamo — Documental (2011)
Artist : Minamo
Title : Documental
Genre : Ambient
Year : 2011
Date : 11/2011
Bitrate : VBR kbps
Tracks : 05
Label : Room40
Source : CDDA
Encoder : Lame 3.98.4
Length : 41:05 min
Size : 65,3 MB

01.Draw The Line 10:51
02.Bound Letters 07:41
03.Dusted Shelf 08:43
04.Handbook 05:35
05.Paperweight 08:15
thread
Pimmon-The_Oansome_Orbit-(RM441)-WEB-2011-MPX
RiPPER......[ Winnie the Pooh
LABEL.......[ Room 40
ENCODER.....[
BiTRATE.....[ 320kbps
MODE........[ Full Stereo
GRABBER.....[ N/A
DATE RiPPED.[ 01.01.2012
YEAR........[ 2011
RELEASE SiZE[ 141,6 MB
TUNES.......[ 08
SOURCE......[ WEB
GENRE.......[ Ambient
CAT.NO......[ RM441

01. Passing, Never to Be Held 06:26
02. Archangel in Reverse 06:03
03. Yicco 05:56
04. Shadow Catch You Tiring 05:35
05. The Oansome Orbit 09:47
06. Holding, Never to Be Passed 08:20
07. Duulbludgers 10:43
08. Bright Light Resist Me 08:57

TOTAL[ 61:47

Pimmon, the prolific godfather of Australian
electronics, makes an overdue and excellent
contribution to Lawrence English's Room 40 imprint.
'The Oansome Orbit' is surely his most harmonically
developed work to date, tempering his taste for
distortion and electronic abstraction with a richer
compositional bent which makes for an engrossing and
unique listen. We'd best let Pimmon say a few words;
"The Oansome Orbit is about connection and
disconnection. In playing with micro loops of sound -
macro listening worlds are made; universes of white
noise wash, blurry melancholic tones, jagged granular
debris. As all these seemingly disconnected sounds
orbit each other, often I feel transported to somewhere
vast - distant - majestic; yet in the process I feel a
great sense of loss, being "oansome"." We can hear
parallels in this rhetoric and aesthetic with everyone
from Fennesz to Leyland Kirby, questing for a balance
between the imperfection and reality of noise texture,
and the celestial sublimation of grander intentions.
And most importantly, he's achieved it to an often
stunning degrees.

junodownload.com
http://www.unibytes.com/4uzHptib5p-B
http://ifolder.ru/27930751
поделитесь
последними
релизами пожалуйста.
(ERIKM - TRANSFALL
ANDREA BELFI - WEGE
MIKE COOPER - DISTANT SONGS OF MADMEN)
+ вот этим
Erikm - Stéme
please
Andreas_Belfi-Wego-(RM446)-2012-CRN
ARTIST: Andreas Belfi
TITLE: Wego
LABEL: Room40
GENRE: Electronic
BITRATE: 239kbps avg
PLAYTIME: 0h 39min total
RELEASE DATE: 2012-00-00
RIP DATE: 2012-02-14
URL:
TRACKLIST
01. A 14:12
02. B 14:50
03. C 2:21
04. D 7:55

Wege translates as 'path' and it's a fitting title for the latest
rendering from master percussionist and experimental composer Andrea
Belfi. The albums' four pieces act as orientation points through some
imaginary sonic landscape.

Wege is Belfi's forth LP (the first with Room40), and stems entirely
from compositions completed at two artist-in-residence projects in
Austria (Hotel Pupik) and in Brussels (Q-O2 Werkplatz). The album is
built around a cyclic electro-acoustic system, through which Belfi has
developed a complex musical network of possibilities.

With this electro-acoustic system, influenced in part by Steve Reich's
'Pendulum Music', Wege's four pieces revolve around spiraling
interconnections of synthesizer, feedback and drums. Belfi explains
further:

"This device creates feedbacks on two drums on my drum kit, and I can
modify it by stopping and stretching the drum skins with hands and
various kinds of sticks, mallets and brushes, and/or by filtering the
feedback with an a modular synthesizer."

?Edited in a quiet apartment in Greifswald (Germany) a small town on the
Baltic Sea, the record bears marks of the stillness of the surroundings
in which it was finalised. There is a sense of hushed awe and a subtle
reference to the wind swept coldness of the landscape in these pieces.

Wege is mastered and mixed by Giuseppe Ielasi.
ifolder / unibytes / gigabase / share4web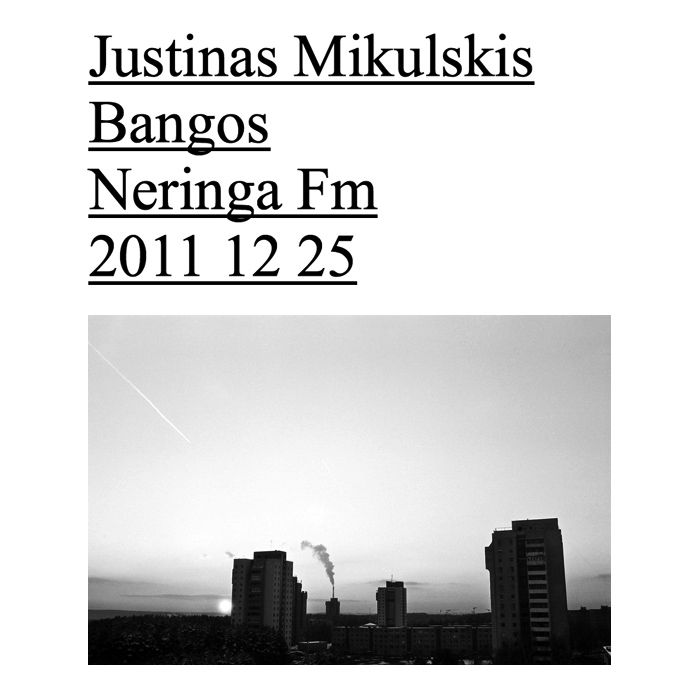 "If I were not a physicist, I would probably be a musician. I often think in music. I live my daydreams in music.
I see my life in terms of music." - Albert Einstein
Perhaps we would have played his track on this mix too.
Tracklist:
The Shadow Ring - Start Repeating | Kye
Charlemagne Palestine - Open + Closing | Alga Marghen
Gil Mellé - Desert Trip | Intrada
Cluster & Eno - One | Bureau B
Origami Galaktika - Vennad Valgusis | Jester
Dead Letters Spell Out Dead Words - Himmelschreibende Herzen | iDeal
Clem Leek - Mystery Moor | Hibernate
John Duncan - Mass | Extreme
Maska Genetik – Ocean | Galakthorrö
Russian Tsarlag - A Thousand Tombs | Hexagon Tapes
Simon Scott - The Acc | Miasmah
Oneida - Pre-Human | Jagjaguwar
Éric La Casa - Dundee 2 | Room40
Birds Of Passage - Disaster Of Dreams | Denovali
Spartak - The Waves To The Rails | Low Point
Zelienople – Something Wrong And Right | Under The Spire
Efrim Manuel Menuck - Kaddish For Chesnutt | Constellation
DOWNLOAD
A good decision is based on knowledge and not on numbers.
Plato